High End Internet Router (R7000)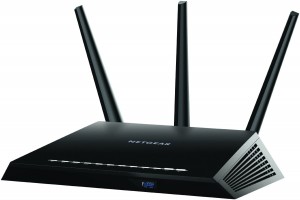 (See all routers here)
This Dual-Band router has GREAT range, supports all the current protocols and the new one "AC".  Unlike other routers, this one has a duel core processor.  It also supports the gigabit networking speed all the way through.  With the newer high speed internet this is necessary or you will bottleneck through your router.  I am not fond of the Netgear configuration interface so I replace the built in Firmware (software) with an open sourced one called "Tomato".  If you want more information about using the Tomato firmware with this router see the bottom of the page.
Some of the great features I use in this router…
I have TWO.   Loaded with the Tomato firmware replacement.  The second one I use as a repeater to extend the range of the first one.  Between the two routers I am able to extend the range of my network throughout an entire apartment building.
With QoS you can give priority to devices on your network such as Internet (VoIP) Telephones or game console.. or if you are doing a lot of downloading you can give priority to your other devices so they are not affected by the downloading.
Many of our clients have hired us to install this router with Tomato on it and a repeater to extend their network.
---
If you plan to try to flash this router with Tomato on your own you must use the "initial" image found here.
Then you must immediately flash it again with the most current image found here.
A HowTo Guide is here.