Standard Multi-Function Inkjet Printer (WF-3620)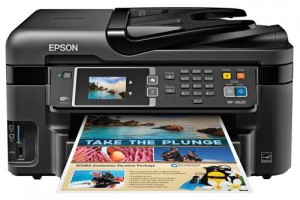 We chose this printer because it allows you to receive faxes directly to the computer without wasting ink or paper (So Epson Tells us).  This is Multi-Function so you you can Fax, Scan, Print.. as well, it has a feeder on the top so you can scan multi-paged documents (Scanning will be slow.  If you want a fast scanner that is here).  If you would like to check out all the specifications for it please check them out on the Epson Product Page.  Skip to the bottom of the page for our purchase link..
All Ink Jet printers tend to rip through their ink quickly and the ink is not cheep.  So in addition to this printer we recommend buying this Laser Jet printer.  In this way you print all your black and white printouts to the Laser saving money on ink while using the Ink Jet for scanning, faxing and the occasional color printout.  In time the Laser Jet will pay for its self in a few ways.  Besides ink, Laser Jets tend to last longer.  Because you are printing to the Laser Jet you will not stressing your Ink Jet printer causing it to last much longer also.
Laser Jet to pair with this as stated above found
here
..
(Shorter Standard version like in the picture)
Buy the Epson WF-3620 Here
(Below is a taller version that holds more paper for about the same price)
Buy the Epson WF-3640 Here